Bryson City cabin rentals done the right way!
Do you want to discover Bryson City? Then you have arrived at the perfect juncture. This is West Oak Lodging and we are excited to meet you! We deeply care about your experience and will go the extra mile for your vacation. Bryson City cabin rentals, vacation rentals, and so much more to make your stay as wonderful as possible!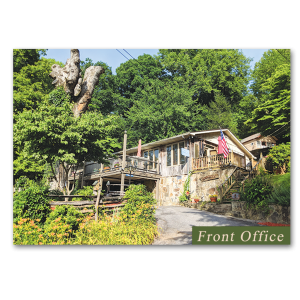 What do we offer?
Amazing Customer Service

Customized Guest Experience
Our location is convenient for you.
Center of Bryson City – 1 & 1/2 blocks
Great Smoky Mountains Railroad – 4 blocks
Fly Fishing Museum – 1/2 block
Library – Next door
Plus loads of family friendly restaurants and shops all just a short walk from your door.  As well as the Deep Creek National Park, where you can enjoy beautiful hiking trails, or take a relaxing tubing trip down the river.
The West Oak Story
In the winter of 1935, Dr. Harold L. Bacon came to live and to practice medicine in Bryson City. He rented an old white farmhouse that existed on the site that is now West Oak Lodging. A 200-year-old white oak tree stood guard before the old house. Its tremendous branches shaded the yard and framed the view of the little town below. Dr. Bacon came to love the spot and wanted to name it West Oak. After several unsuccessful attempts to purchase the property from the Frye family, Dr. bacon bought and resettled on the hill next to his beloved white oak tree. The West oak property was eventually sold to the Bacons. The old house, long gone, has been replaced by a vintage log dwelling, carefully and painstakingly restored. Many years have passed, but the view and the tree that Dr. Bacon loved so well remain unchanged. Mercedith Bacon is happy now to invite you to share the shade of the old oak tree at West Oak Lodging.